7 Guided Meditations for the Great Shift
Day 2
Healing your Tree of Life: practice...
Day 3
Merging with your cosmic self...
Day 4
The Rose Gold meditation: Introduction...
Day 5
Rose Gold Meditation: practice...
Day 6
The Rose Matrix Meditation: Practice...
Day 7
Chakra Rose meditation: Introduction...
Day 8
Chakra Rose Meditation: Practice...
Day 9
Quantum Double Self meditation: introduction...
Day 10
Quantum Double Self Meditation: Practice...
Day 11
The Psychic Veil meditation: Introduction...
Day 12
Psychic Veil Meditation: Practice...
Day 13
Guidelines: How often to use these meditations...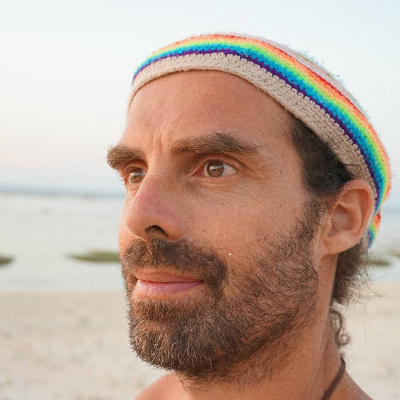 Demian Haye is 44 years old and is the main teacher of Magic Vibrations Healing School.
Born in France, he travelled all around the world the last 20 years and spent 15 years
in India, where he learnt many healing techniques and modalities.
He is teaching since 2005 many different workshops and gives online coaching sessions.
The workshops he is sharing are : Magic Water workshop, Sacred Journey into the
Heart, Cord Cutting, Soul retrieval, Ancestral clearing, DNA activations,
Shamanic Journeys, High Initiations, Rays Initiations, Quantum Healing, Mazik
templates, Avataram sacred teachings and many more.
Since 2017 he is a certified teacher of the Light Language, coming from Mexico (school of Starr Fuentes).
He is now teaching online through Zoom and gives private coaching and healing sessions.
He is currently living in Atitlan lake, Guatemala, an ancient spiritual vortex where an international community lives.
His website is www.magicvibrationshealing.com
This course "7 Guided meditations for the Great Shift" is designed to help you explore seven powerful tools that may help in your spiritual development and ascension. Demian tried and taught a variety of guided meditations throughout the years. He shared the 7 most impactful ones with you. Everything is changing and we are transitioning from the old to the new paradigm. This transition process is not always easy for us, and these meditations will assist you in coping with this massive transformation. Regularly practicing these meditations will assist you in becoming more prepared for the changes ahead. You can opt to put some of these into practice more frequently or simply pay attention to your present demands. Soon after you begin, you will notice a difference in your life. In this course, you will get guided meditations to improve your lifestyle.
Healing your Tree of Life, a meditation that can help you heal and re-actualize your self-image and how you see yourself.
Merging with your Cosmic Self, a meditation that will help you expand your field of awareness until you merge with the bigger Self, which will take you beyond the final Horizon Event.
The Rose Gold meditation, a technique that aims to bring together the Divine Feminine and Divine Masculine inside us in order to give birth to the Divine Child, embracing the Trinity of Consciousness rather than duality.
The Rose Matrix meditation, a way to reconnect with Creator's original Master Plan while also disconnecting from dystopian, disastrous futures.
The Chakra Rose meditation, a visualization-based practice for clearing your chakras and allowing new, fresh energy to enter into your system.
The Quantum Double Self, a meditation to tune into and communicate with your Shamanic Double, a higher aspect of Self who exists in a timeless dimension.
The Psychic Veil meditation, a meditation that activates an intelligent, self-adjusting shield around you to protect you from harm.
Equipment: Yoga mat
Body focus: All
Difficulty: easy